It's no secret that the eCommerce industry is rapidly growing, and holds huge opportunity for committed entrepreneurs. But in order to succeed, you're going to have to find the best eCommerce platform for your small business. Top eCommerce solutions can help you drive traffic, stand out visually, generate marketing leads, and ultimately, boost sales.
There are many great platforms out there, but depending on your business, only one or two may truly suit your unique needs. Use this guide to review the different pros and cons of top eCommerce platforms and make the best decision.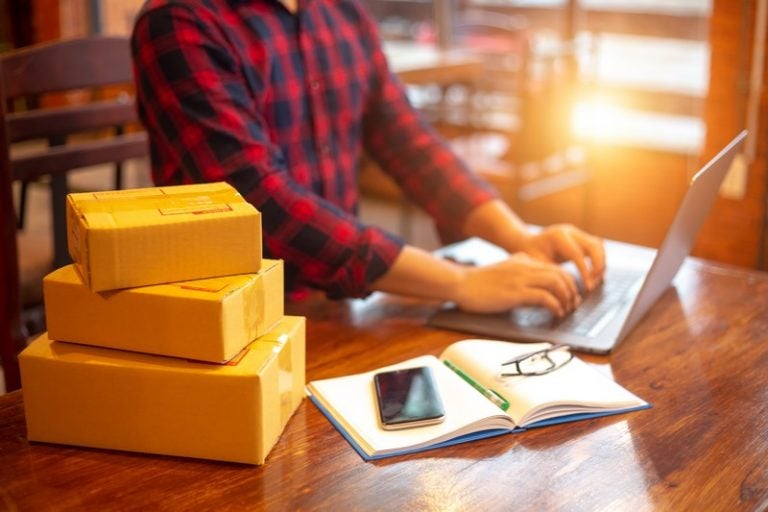 What Should You Look for in an eCommerce Platform for Your Small Business?
How can you find the best eCommerce platform for your business? Depending on your goals, there are a few factors that you need to consider.
Search engine optimization (SEO): SEO ensures your site is targeting your ideal customers and bringing in consistent, organic traffic. Make sure your eCommerce platform offers top SEO tools and customizable URLs, image ALT tags, and more.
Overall Monthly or Flat Cost: Remember, free platforms won't typically offer a ton of features – and pricey eCommerce solutions aren't necessarily better than most. Instead, focus on price plans you are comfortable with – ideally for a monthly rate or one-time cost – and don't be afraid to spend a little extra for quality web hosting. You can always cut costs in other areas.
Ease of use: An eCommerce platform can offer all the top-notch, must-have features. But if it isn't easy to navigate, it's going to take up your time and slow down your business. Opt for something you'll be able to use intuitively.
Speed, Performance & Scalability: If your site isn't performing well or suffers from slow speeds, customers can become frustrated and click elsewhere. Avoid this by sticking to an eCommerce platform that offers top performance capabilities and has the infrastructure to support you as you grow.
Customizable Design: It's perfectly possible to make sales with a generic, free theme on your eCommerce site.  But building an online brand and reaching the next level of success will require customizing your design. Look for eCommerce platforms that allow you to do just that.
User Experience: Your eCommerce platform needs to be easy for you to navigate, but it also has to be user-friendly. You want an eCommerce platform that offers top features within an organized website structure. Compatibility with mobile devices and credit card payments is also a must.
Marketing Options: Look for an eCommerce platform that tracks who visits your site, offers customer analytical tools, and turns data into leads. If your eCommerce platform is compatible with automated marketing tools, you'll have an advantage.
Based on your business, you may (or may not) need to put equal focus on each category. So, what are the best eCommerce platforms?
Best eCommerce Platforms for Small Businesses
Before you choose the best eCommerce platform for your small business to sell online, make sure to have a concrete idea of the must-have features you're looking for.
If you're planning on growing your eCommerce site, you'll want a scalable platform that makes adding products easy. If you aren't tech-savvy, you'll need web hosting that's easy to use. When a distinctive, brand-centric layout is important for your business, look for platforms that allow a ton of customization.
Many of the platforms outlined below also offer free trials. If you're unsure of what you're looking for, consider taking advantage of this option before settling on a choice.
Best for Customization: Magento
A favorite among some of the biggest enterprise retail brands, Magneto offers a wide range of top-notch features and customizable options. Working with the right developer, you can build almost anything you want on Magneto.
For online retailers looking to scale as they sell, Magento is capable of supporting unlimited products. Magneto also boasts tools for accounting, marketing automation, email campaigns, subscriptions, SEO, and more.
However, some of Magneto's themes are on the pricier side and many of its features require developer skills. If you have a dedicated developer or development team and are willing to commit to the time and spend, then Magento may be the right fit for you. But if you're looking for a hands-off solution, Magento may not fit the bill.
Best for Retail and eCommerce Integration: Shopify
One of the best eCommerce platforms for small businesses, Shopify has all the must-have features laid out within an easy-to-use, intuitive interface. It excels at supporting inventory management, one-click selling, omnichannel sales, and more.
Shopify works wonders when it comes to integrating omnichannel selling partners, such as Facebook, Instagram, Amazon, and more. However, its SEO capabilities don't particularly stand out and many retailers have had difficulty customizing their URLs.
Overall, Shopify is a simple, user-friendly platform that offers some, but not all, of the capabilities you'd look for.
Best for Beginners: Wix
Wix is a leading eCommerce platform when it comes to free themes, drag and drop elements, easy setup, and a beginner-friendly interface. It incorporates omni-channel selling, abandoned cart recovery, dropshipping, and more. Wix also offers affordable price plans, which is a huge perk for entrepreneurs with new eCommerce stores.
Unfortunately, Wix isn't the best when it comes to SEO. You're also going to run into difficulty if you want a fully customizable template. Some users have also experienced security concerns.
Best for Design and Functionality: Squarespace
Squarespace is a top eCommerce platform for small businesses because of its affordability, stellar designs, great functionality, and easy set up process. This platform offers drag and drop elements, inventory management, marketing tools, omnichannel selling, SEO, analytics, and more – for an affordable price range.
Squarespace even integrates with ShipStation and ShipBob and presents real-time shipping rate calculations. However, it doesn't offer dropshipping capabilities or Amazon integration.
Best for Budget: Weebly
Weebly is budget-friendly, easy-to-use, and an overall great choice for beginners. There are a ton of free and low-cost design templates – albeit with limits on customization. Weebly also offers automated marketing tools, shipping tools, inventory management, and more.
Weebly provides excellent value for small businesses, but larger retailers or those looking to scale are likely to run into limitations. The platform also isn't strong on SEO and doesn't allow for omni-channel selling through Amazon, Facebook, or Etsy.
Best for Scaling: BigCommerce
BigCommerce offers the ideal mix of simple features and more advanced elements – making it perfect for businesses looking to scale. The platform is incredibly flexible and offers a high-degree of customization. BigCommerce also excels at omni-channel selling, cart abandonment tools, SEO, and more.
The only downside is that BigCommerce becomes more expensive as your inventory and store grows. It also doesn't offer one-click selling.
Best for SEO: WooCommerce
WooCommerce is an eCommerce solution from WordPress, one of the most popular content management systems for small businesses. WooCommerce excels at SEO and offers extensions for payment gateways, omnichannel selling, email marketing, one-click selling, and shipping.
If you don't have a WordPress site, then it probably won't make sense to consider WooCommerce. Some users have also reported problems with scalability.
Best for Ease of Use: GoDaddy
While primarily functioning as a domain broker and hosting service, GoDaddy also offers an eCommerce platform that is simple, fast, and easy to use. Many small business owners, especially those who struggle with technology, opt for GoDaddy because it's incredibly straightforward.
In exchange for its simplistic approach, GoDaddy isn't feature-rich or customizable. If you're planning on scaling your business, GoDaddy also wouldn't be the best choice.
For a fast and easy web presence, though, it may be the right answer.
Best for Payment Processing: Shift4Shop
Previously known as 3dcart, Shift4Shop is now owned by payment company Shift4 Payments. Shift4Shop is hailed for its powerful payment processor capabilities and security features. It also includes several features, like SEO capabilities, marketing tools, inventory management, omnichannel selling, and more.
Shift4Shop does provide quality designs and themes. However, choices are limited and there isn't a lot of opportunity for customization.
Choosing the Best eCommerce Platform for Your Small Business
Choosing the best eCommerce platform for your small business is going to be costly – but it's also an investment in your own success. The right platform will drive sales and bring in more revenue to make the switch worthwhile.
Rather than settling for the cheapest option, our Business Financing Advisors can help you get the funding you need to invest in your online store. We'll help you compare line of credit offers and business loans from over 75 lenders.
You don't want to settle for anything less than the best eCommerce platform for your small business. Get started by applying now!