Curious about where the eCommerce industry is heading and which eCommerce trends are driving online sales in 2021?
The Covid-19 pandemic has wreaked havoc on many industries, from restaurants to entertainment, but not eCommerce. In fact, online retail shops have been one of the few businesses to benefit as a result of Covid-19 and stay-at-home orders.
Online sales had been increasing steadily for some time, but following COVID-19, the industry has blown up. American online shoppers are expected to have spent a whopping $709.78 billion on eCommerce in 2020, representing 14.5% of total retail sales. Just in the third quarter of 2020 alone, there was a 57% year-over-year increase in U.S. online revenue.
Many online shoppers in 2020 were first-time digital buyers, representing a shift in consumer behavior towards eCommerce that is likely to remain even as Covid-19 subsides.
As an eCommerce business, 2021 offers enormous potential to grow your digital presence, convert your audience, and boost sales.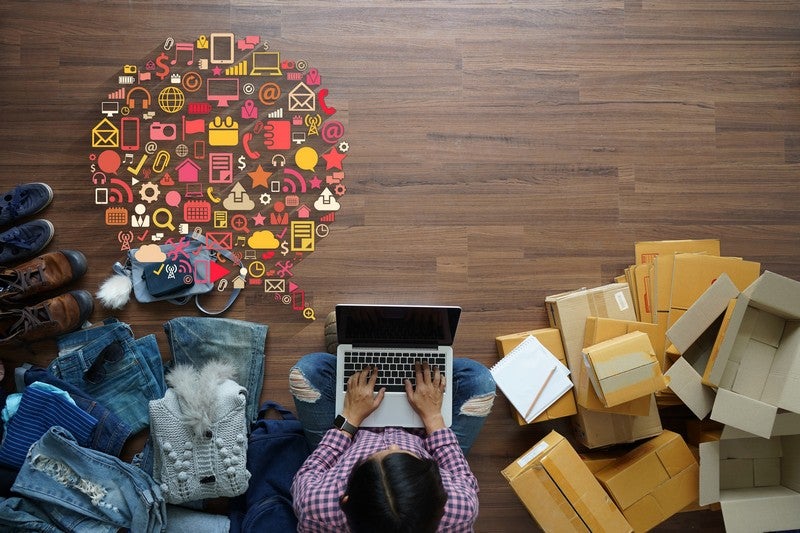 eCommerce trends for boosting online sales in 2021
If you're looking to ramp up your eCommerce sales this year, look no further. You'll want to consider ways your online store can implement the following eCommerce trends, stay competitive, and continue growing.
1. Augmented Reality Creates a Realistic Shopping Experience
One of the biggest hurdles to online shopping is being unable to view the product in a real-life setting. Sometimes, even a close-up perspective can help customers make a final decision about in-home products, like carpets or mirrors.
Augmented Reality (AR) solves this problem by helping shoppers visualize better.
Consumers can use AR technology to envision how a product would look like in a real-life, personalized setting—whether it's themselves wearing a piece of clothing or a furniture item in their living room. The end result is a customizable and interactive shopping experience that encourages sales.
Plenty of eCommerce retailers are already making use of AR to engage consumers and boost sales. ABI Research forecasts that by 2022, AR will be responsible for 3% of worldwide e-commerce revenue, or a whopping US $122 billion in revenue.
2. Voice Search Adds New Potential for Exposure
Millions of U.S. households use smart speakers like Amazon's Alexa, Google Assistant, and Microsoft's Cortana on a daily basis. People can play music, check the weather, ask questions, and even shop for products with a voice command.
As smart speakers continue to grow in popularity, consumers will also make more online purchases through voice command.
It's important for eCommerce businesses to consider integrating their online store with today's popular smart speakers. For example, many Amazon retailers have been able to successfully make online sales through Alexa.
Be sure to stay on the cutting edge by optimizing your website to be a solution for voice searches related to your product through SEO.
3. Omnichannel Selling Will Reach Customers Everywhere
Now more than ever, eCommerce sites need to make use of multi channel platforms to reach more customers and generate sales.
One way to do this is by ensuring your eCommerce store is compatible with mobile devices, tablets, laptops, and more. It also helps to take advantage of multiple social media platforms— especially Instagram, TikTok, Facebook, and Pinterest. You may also want to explore partnering with a giant online retailer, like Amazon or Etsy.
The more exposure you have, the broader and more powerful your reach. It may seem like a lot to manage, but omnichannel selling is expected to become easier and more accessible to online retail stores throughout 2021.
As your eCommerce store grows, continue identifying new channels relevant to your customer base and integrate them into your selling strategy.
4. AI Will Become a More Common eCommerce Trend
Artificial Intelligence (AI) will revolutionize nearly every industry in the coming years, and eCommerce is no different. Online retailers can use AI to optimize customer data, manage inventory, automate tasks, offer customer support, enhance marketing efforts, and more.
AI can also assist with product recommendations and shopping guidance—helping online stores provide a personalized experience to consumers and boost sales.
In order to stay ahead of competitors, it's recommended online retailers begin implementing AI features sooner rather than later. Marketing, customer service, and workflow automation are a good place to start.
5. Personalization Adds a Powerful Punch
Over half of U.S. shoppers surveyed by Bazaarvoice and ResearchNow agreed that personalization is critical. Online retailers and marketers have taken notice—making personalization one of the biggest eCommerce trends to watch out for in 2021 and beyond.
Online stores can use the customer data they've collected to provide individualized experiences. This can include tailored email notifications, relevant shopping discounts, saving past purchases, and one-on-one product recommendations.
As one of the most important eCommerce trends, personalization not only contributes to a better shopping experience, but also has powerful effects on sales. One study estimates that personalization can contribute to a 25% increase in revenue.
6. Online Chat/Chatbot Help Drive the Customer Experience
Chatbots enhance the customer experience by combining the very best of automation and personalization.
Shoppers can use chatbots to ask questions and receive recommendations, all the while feeling as if they're receiving one-on-one personal attention. Many chatbots are designed to resemble human conversations and engage users.
Chatbots improve the shopping experience and are also a cost-effective solution for helping online retailers manage customer service. For these reasons, chatbots are becoming an increasing popular eCommerce trend.
7. Payment Methods Make Shopping Flexible
Shoppers are expecting greater variety when it comes to both brick and mortar stores and eCommerce sites alike.
Mobile payments have especially come to the forefront in recent years, no doubt from the rise of Apple Pay, Samsung Pay, and Google Pay. One 2019 estimate predicts that by the end of 2021, 73% of all eCommerce sales will be from mobile payments.
E-wallets are another major eCommerce trend for 2021. Amazon Pay and Paypal store important customer information to allow for a seamless, quick checkout process – all the while reducing barriers to sales.
Make sure your eCommerce site is mobile friendly and to incorporate as many new payment methods as you can. This will ensure a smooth checkout process and better conversion.
8. Brand Values & Sustainability Position You For Success
Conscious consumerism is one of several eCommerce trends making the biggest impact in 2021. According to the Harvard business review, 65% of consumers want to shop from purpose-driven brands.
Brand values can be a variety of different things, but one value that's becoming increasingly mainstream is environmentalism.
eCommerce sites that take some of the following environmental steps could be in a better position to resonate with audiences:
Reduce wasteful packaging
Incorporate biodegradable packaging
Work with fair-trade organizations
Source locally
Find other ways to reduce their carbon footprint
Be sure to consider your consumer base and demographics as you build out brand value incentives and objectives.
9. Video Helps You Attract, Engage and Convert
If a picture can tell a thousand words, then the potential for video is infinite. Videos are an ideal way for eCommerce brands to relate their message, educate consumers, and capture an audience's attention. They are also an especially powerful tool among Millennials and Gen Z.
Expect to see more videos pop up in unexpected places throughout 2021. Aside from social media platforms, videos will also be increasingly incorporated onto eCommerce sites— including homepages, product pages, and more.
Consider ways your eCommerce business can develop video content for multi-channel purposes and stay ahead of the competition.
You can also leverage the power of social media on your website by integrating social videos on landing pages.
10. Subscriptions Create Long-Term Relationships
Subscription services and monthly payment options have been growing in popularity throughout recent years, and that's unlikely to change in 2021.
Subscriptions offer numerous benefits for online retailers, especially by helping you maintain a long-term relationship with your customers. If you haven't already, then consider ways your eCommerce business could introduce a subscription package.
11. Dropshipping Becomes a More Important eCommerce Trend
Dropshipping allows eCommerce stores to purchase products directly from a manufacturer, who then ships it to the customer. This way, online retailers never have to store inventory or handle products directly. Instead, you can drive revenue based purely on your brand's reach and marketing.
Dropshipping has been a popular eCommerce business model for some time—with its global market size valued at about $149.4 billion in 2020. In 2021, dropshipping is one of several eCommerce trends expected to grow even larger.
Dropshipping offers plenty of potential as a lucrative eCommerce business. Now that Alibaba has opened up new avenues for dropshipping sales, there are more opportunities than ever before.
12. An Increased Focus on Boosting Conversion Rates
The key to growing your eCommerce sales in 2021 is by focusing on maximizing your conversion rate. The average conversion rate for most online shoppers in the United States hovers around 3%.
Not every consumer that comes to your website will end up purchasing a product. The goal of optimizing for conversions is to drive this number up. You can do this by tweaking things on your website, such as the design, layout, copy, and more. Adding a new product explainer video could be the change you've been looking for!
As mentioned, investing in videos, omnichannel marketing, enhancing personalization, and introducing AI are some of the ways you can boost your conversion and drive more online retail sales in 2021.
How to Capitalize on eCommerce Trends in 2021
How can your eCommerce business gain an edge? Start by investing into your online store so that it's in line with the latest eCommerce trends of 2021. Investing in your eCommerce business now ensures you're ahead of the competition when it matters most.
Whether you plan on introducing more video content, working with a chatbot to improve customer relations, increase sustainability, or even incorporate more payment methods—you're going to need more cash to foot the bill.
National Business Capital helps eCommerce businesses obtain financing solutions to empower them to boost their online sales.
Whether it's a business line of credit or a loan for your eCommerce store, our expert Business Financing Advisors can help you get the funds you need to take your online store to the next level.
Applying takes less than a minute—get started now!