The government shutdown closed the Small Business Administration (SBA) in Washington DC, affecting millions of small business owners throughout the nation.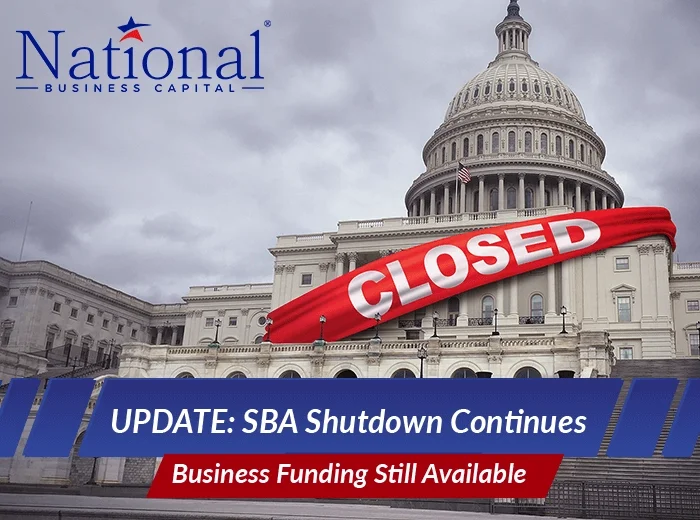 1/14/2019 UPDATE: Government Shutdown
Now the Longest in American History
The government has now been closed for 23 days, breaking the 21-day record set in 1995 by during Bill Clinton's administration, making the current shutdown the longest in American history.
Negotiations between Trump and Congress over border wall funding are more hostile than ever, leaving no end in sight for the shutdown, and many thousands of government workers unpaid.
The President has repeatedly stated that he is willing to keep the government shut down as long as it takes for him to get the funding amount he requests – even if it takes anywhere from months, to years to reach an agreement.
But the President isn't the only one being denied the funding he needs.
Government agencies including the SBA also remain closed, leaving millions of small business owners that rely on government funding without a means to obtain capital.
This is leading small business owners across the country to obtain financing through alternative funding products including small business loans, business lines of credit and Hybridge™ SBA Loans to tide them over until the SBA reopens.
Apply for Alternative Small Business Funding
SBA Closes, Along With
Thousands of Government Agencies
Thousands of government workers will be working without pay until the government opens back up (expected sometime in the first half of January).
This includes the Small Business Association: a government agency that provides one of the most sought-after financing options to US small businesses: the SBA loan.
Small Business Affected By SBA Closure
As the SBA closes its doors to new applications, business owners across the nation in need of financing are left scrambling for a comparable alternative solution.
However, the SBA has stated that those who have already submitted an SBA loan application will still be able to receive their funds on schedule.
Those that have not submitted an application are expected to have to wait until mid-January before starting their SBA funding process.
The Alternative SBA Solution
Those that cannot wait to get the capital they need from an SBA loan are applying for alternative funding options to tide them over until the government opens up again.
These include small business loans, business lines of credit, and the new, expedited Hybridge™ SBA Loan.
For those seeking SBA funds, but can't afford to wait, the Hybridge™ SBA Loan offers an all-in-one solution that is helping many survive the government shutdown.
The Hybridge™ SBA Loan includes initial bridge capital, which business owners receive within 24 hours.
This is used to get business owners the immediate capital they need to tide them over until the government opens back up again.
Once the SBA opens its doors again, business owners will be better equipped and prepared to apply for a traditional SBA loan.
Funds will be received in as little as 45 days after the SBA reopens through the Hybridge™ SBA Loan's expedited process, easier approval, and limited paperwork requirements.
Don't Be Shut Down From the Funds You Deserve
Over 90% of all applicants who apply for SBA funding through National get approved, faster and easier than any government agency.
The government may have shut down, but when it comes to funding business growth, National never sleeps.
Call (877) 482-3008 for a free consultation, and see if a Hybridge™ SBA Loan – or any other of our 12+ financing products – is the right fit for you and your business.
Or, get the funds you need in as little as 24 hours by filling out our free 60-second application online.