Looking for the best line of credit for business in 2022? Continue reading to learn the steps that you will need to take before applying.
A line of credit is a flexible financing option for businesses in all industries. It's essentially a revolving loan that allows you to borrow funds on an as-needed basis and repay on your schedule, much like a credit card.
Entrepreneurs will typically leverage this type of financing to cover their expenses, such as rent, payroll, and utilities, but you can use the funds for almost any business purpose, including marketing initiatives, growth opportunities, and more.
1. What are the benefits of getting line of credit for business?
There are multiple benefits of getting line of credit for business, from gaining access to short-term funding to more flexibility (you only pay for what you use), as well as more business adaptability. They can also improve your cash flow during low season.
Securing line of credit for business means a consistent source of funding that companies can tap into without needing to go through the time-consuming process of applying for a new loan every time they need capital.
In other words, entrepreneurs will choose this option because of the flexibility and peace of mind it offers—you don't have to worry about an unexpected expense bringing your organization to a screeching halt with stable access to capital behind you.
You can secure a business line of credit from a bank, credit union, online lender, or marketplace, with each option having its unique benefits and drawbacks. But, with so many options in front of you, how do you know which offer is right for your business?
There's not really a clear answer. Everyone's situation is different, and an option that works great for one business might not have the same benefits for your specific circumstances.
The most important thing is that you accept terms that fit your needs, and with National's 75+ lender marketplace, you give yourself a much better chance of finding the RIGHT lender for your specific needs. 
Here's everything you need to know about business lines of credit and, more importantly, how to find the best line of credit for your business.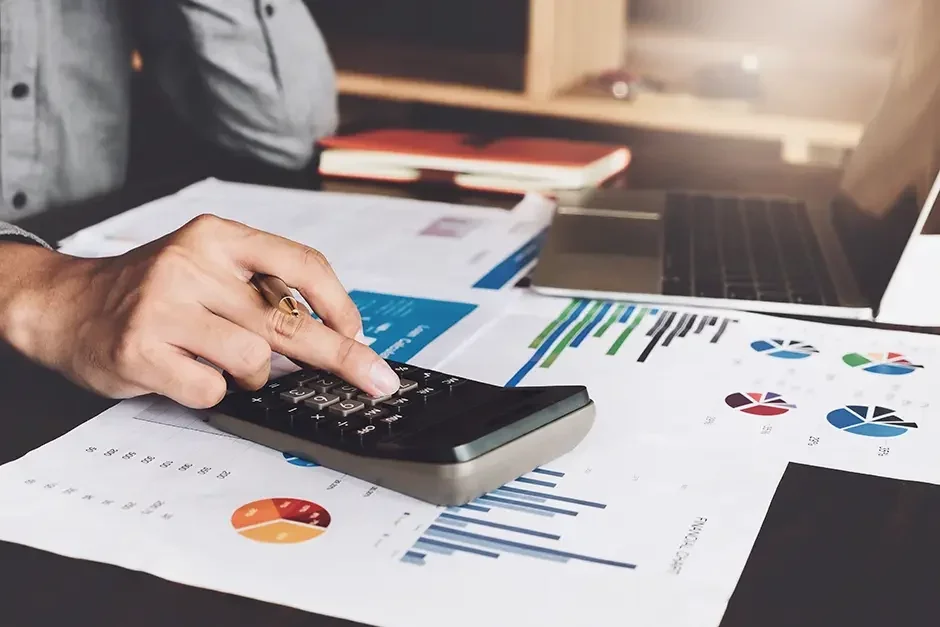 2. What is a line of credit for business, and why do companies need it?
A line of credit for business is a financing option that provides short-term access to capital on an ongoing basis.  Entrepreneurs will leverage this option for a variety of purposes, such as funding inventory purchases, covering expenses during lean periods, or taking advantage of opportunities as they arise, but they can essentially help pay for any business expense.
Unlike a loan, a line of credit allows you to borrow money for a shorter period of time without having to go through a lengthy application process every time you need capital.
They're a flexible financial resource that allows you to break down unexpected or sizeable expenses into more manageable monthly payments, which can be game-changing for businesses of all sizes.
Seasonal or cyclical businesses, like those in the manufacturing or construction industries, earn a majority of their revenue in select periods of the year.
This leaves them without consistent income for a potentially long period of time, which can create cash flow problems that extend into your busy season and complicate your ability to meet deadlines.
Lines of credit are essential for these businesses, as they provide the capital needed to cover your expenses during slow seasons.
3. What is the difference between secured vs unsecured business line of credit?
A business line of credit comes in two forms: secured and unsecured. Secured lines of credit use collateral as a method of "securing" the financing, whereas unsecured lines of credit come with no collateral requirement.
A secured line of credit is easier to obtain compared to an unsecured one, as unsecured lines of credit come with strict eligibility requirements that may disqualify some startups or newer businesses. 
Some entrepreneurs will avoid collateral offerings under all circumstances, but this severely limits what their organization can achieve.
Collateral is risky, of course, but you can avoid losing your asset if you manage your repayments well. You should also consider the benefits that the line of credit for business will provide to your organization. Does it outweigh the risk of offering collateral? If so, it's worthwhile to consider.
The strict requirements on secured lines of credit shouldn't deter you from applying. You'll never know what terms you qualify for until you reach out, so it's best to try it out and see if the offered terms fit the needs of your business.
4. What is the difference between closed-end vs revolving line of credit?
Most business lines of credit are revolving, but you can also seek out closed-end lines of credit as well. With a closed-end line of credit, you're given a lump sum payment that you would use to purchase a specific product or service.
This type of financing is also called an "installment loan," as your funds are provided in a manner similar to most traditional loan products. You'll have to disclose the purchase with your lender, and if they disagree with your reasoning, they might decline your application.
Revolving lines of credit are much more flexible. You can make consistent withdrawals over the course of your term and draw the same funds immediately after paying off your existing balance.
Lenders may include fees that you must abide by, but if you're working with the right lender, these fees won't cause too much of an issue in your daily business operations.
5. How will the business landscape change from 2022 to 2023, and what implications will this have for businesses seeking a line of credit?
2022 hasn't been easy for business owners and entrepreneurs. Between soaring inflation, supply chain constraints, and the possibility of a recession, everyone's had to work harder than usual to continue serving their customers at the pace they expect, but it's not over.
The FED raised the prime rate six times in 2022, and it's expected to rise further in 2023 if the inflation rate doesn't subside.
An increase in the prime rate could impact you if you have a variable interest rate on your financing. Fixed rates are increasing in correlation with the prime rate as well. If you're looking to avoid paying more interest than you should, then you should take advantage of the current rate while it's still relatively low.
Lines of credit for business are powerful resources for uncertain times. Forecasting for the future of your business is almost impossible with prices fluctuating so dramatically, but with a line of credit, you have consistent access to capital to serve as a barrier against these costs.
You'll have peace of mind, the resources to stay competitive, and, more importantly, an avenue to grow through the uneasy economic climate.
Stay competitive—reach out to our team to lock in your financing before you need it.
6. How can you be sure you're getting the best line of credit for business in 2022?
The only way to ensure you're getting the best deal on your line of credit is to shop around and compare your offers.
After all, you won't know if an offer is a good deal unless you have something to compare it to, so it's best to apply with as many lenders as possible before making a final decision. Here are a few tips to consider as you go along your journey:
Compare rates and terms from different lenders

Ask about fees and penalties

Read the fine print

Don't be afraid to negotiate

Shop around for the best deal
Reading the fine print and asking about lender fees are almost as important as shopping around for multiple offers.
Transparency is essential in business financing, and if you're working with a non-transparent lender, you could find out about their fees halfway through your term.
For example, some lenders will include "zero balance" clauses in their line of credit contracts, which require the borrower to maintain a $0 balance for a certain amount of time during their contract. If you aren't aware of a fee like this, you could end up paying more than you should on your line of credit.
You either shouldn't be afraid to negotiate. Advocating for yourself and your business could yield better results, so don't always accept their first offer as the best they can give. In some cases, there's some wiggle room, but you won't know until you ask!
7. What are some tips for managing your line of credit for business responsibly in 2022 and beyond?
Responsibility is key to getting the most out of your line of credit. Here are a few tips for managing your line responsibly in 2022 and beyond: 
7.1. Stay within your limit
Your credit line has a limit that represents the maximum amount you can draw, but it's a good idea to keep your balance as far from that limit as possible.
Set mental limits, like a goal to never exceed $125,000 on a $200,000 credit line, to ensure you don't overwhelm the capabilities of your business. Emergencies happen, of course, and you might not be able to avoid using the maximum amount on your line.
However, keeping your balance low allows for more emergency funds, so keep that in mind as you draw funds to support your business. 
7.2. Make timely payments
This might seem obvious, but making timely, consistent payments on your existing balance is one of the best ways to manage your credit line over time.
Missing one payment could create a ripple effect where you neglect other payments over time, and once you're overwhelmed, there's no easy path back to financial security. 
7.3. Keep track of your spending
You should make a habit of checking your existing balance to ensure you're staying within your limits.
It's easy to get caught up in the day-to-day of your business and forget how often you're using your credit line, so you should make a consistent effort to monitor your spending.
7.4. Avoid unnecessary fees/penalties
Ask your lender for a complete breakdown of all the fees or penalties included in your contract. If you do, you'll know how to avoid them, which will help you save on costs and increase the benefits of your financing.
Managing your line of credit for business responsibly is key to getting the most out of it. If you monitor your spending, stay below your limit, and stay on top of your payments, you'll be able to use this powerful resource to cultivate sustainable growth in your business.
National Business Capital can help you find the best line of credit for business
Searching for the best line of credit for your business is a time-consuming process. You'll have to take yourself out of the day-to-day operations to sit down and research, which isn't something every entrepreneur can afford to do.
That's why National Business Capital exists—We've secured $2 billion on behalf of our clients through 25,000+ transactions, making us uniquely capable of finding the RIGHT lender for your needs. 
Our expert Business Finance Advisors leverage a 75+ lender marketplace to provide our clients with multiple offers from one streamlined application. We've worked with almost every industry since our inception in 2007, so you can trust that we "get" your specific needs and industry nuances.
Not only that, but we can help you move from application to funding in hours, not months, which will allow you to capitalize on opportunities promptly.
You'll never know what you qualify for unless you apply. Complete our digital application today to start the process and speak with our award-winning team. 
FAQs
How Do I Choose a Business Line of Credit?
Every company has different needs, so the process of choosing a line of credit for business will differ between entrepreneurs. Generally, you want to find a lender offering terms that fit your needs and specific circumstances. You'll have to apply to multiple lenders, compare their offers, and see which one fits your business, but this process is time-consuming.
If you're looking to streamline your search for a line of credit, National Business Capital's 75+ lender marketplace can provide multiple offers with one digital application.
What Credit Score Do I Need to Get a Business Line of Credit?
You'll need at least a 600 FICO score to give yourself a good chance of reaching an approval, but you can potentially secure a line of credit with a lower credit score—you just might have to offer collateral.
Your ability to qualify only increases as your credit score gets stronger, so it's worthwhile to consider proactively strengthening your score before applying.
When Should You Get a Line of Credit Set Up for a Business?
The best time to secure a line of credit for your business is BEFORE you need it. Having access to short-term capital can help you pay off expenses, manage your cash flow, or increase your inventory, but only if you have an established credit line behind you.
Is It Easy to Get a Business Line of Credit?
Your ability to qualify for a business line of credit will depend on your credit score, annual revenue, and time in business. If you have a 600+ credit score, more than $120,000 in annual revenue, and longer than one year in business, it's relatively easy to secure lower credit limit lines of credit.
Anyone with less than favorable financial information or those seeking higher credit limits might find it a bit more difficult, but it's not impossible.